The new Bodrum bus station, which has been under construction since 2019, begun its work.
The bus station (garage), built by the Mugla municipality and attracting an investment of 74 million Turkish lira, was put into service following the completion of tenders for office development.
The foundations of the bus station laid on March 9, 2019. Built on an area of ​​30 759 square meters, the station has 6 separate charging stations for electric vehicles.
Thanks to roof solar panels, the building will generate its own electricity. The number of sites for international buses – 21, for minibuses – 45, for bus parking – 10. Open parking for 157 cars, covered parking for 19 cars, parking for disabled people for 8 cars.
The project criticized under increasing traffic density at the Torba area.
A new Shop & Go shopping center with shops and cafes opened next to the new Bodrum bus station.
In accordance with the new rules for public transport, buses from the airport will arrive to the new bus terminal. Next, a free shuttle from 21 platform will take you to the center of Bodrum, price 5,40TL. Please, buy Kent card – Bodrum transport card. 
The parking costs of the new bus terminal (25 minutes free):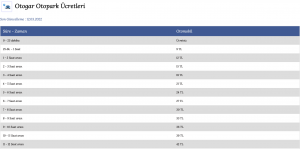 24 hours parking – 78TL.
Source: Bodrumotogar.com