The General Directorate of Civil Aviation of Turkey has announced an increase in fines for violating aviation safety requirements both in the sky and on the ground. Administrative fines will be increased at the revaluation rate effective from the beginning of each calendar year. In 2020, the revaluation determined and amounted as a 22.58%. The published Communiqué defines fines to applied to drones, unmanned aerial vehicles (UAVs).
The penalty for those who do not register UAVs in the registration system of the Turkey General Directorate will be 9 013TL (≈1 490$). The penalty of incorrectly specified characteristics of the drone or launch in the wrong place will be 18 025TL (≈2 980$). Previously, the fine was 1 803TL (≈290$).
Drones weighing more than 500gr. must registered with the Turkey General Directorate of Civil Aviation. You can only manage it by obtaining the appropriate license for a graduate of flight courses authorized by the Directorate.
The same applies to those who violate rules on aircraft board. According to the new rules, aggressive passengers will fined 2 603TL (≈430$).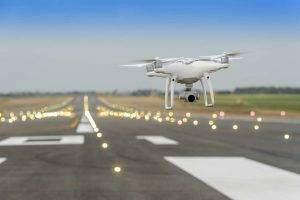 Many travelers interested about taking a drone into Turkey. It is possible, but you should keep in mind that not knowing the law does not exempt from liability in case of violation of the rules for using UAVs. It's easy to break them, because in Turkey a lot of military and other objects prohibited for shooting.
According to information from Civil Aviation Directorate if  you want to use drone you should take a permission. Applicate online, filling the form (FR-19) and send to Directorate. And just after receiving the approval you can fly. But the main problem is that you should have foreign ID number (Yabanci Kimlik Numarası) to applicate for permission.
One of the suitable drone in Turkey – DJI Mavic Mini. Before using you should fill the form and send it by fax or post letter to Aviation authority and waiting approximately one month for response. And in that case you also should have foreign ID number.
All Bodrum Peninsula marked by Sivil Havacılık Genel Müdürlügü as a red zone for any flights. It means that you must take a flight permission for using your drone.
For information call to Civil Aviation General Directorate (Sivil Havacılık Genel Müdürlügü) +90 312 203 60 00 (Tr&En).
If you will use your drone without permission you will be detained for 24 hours and pay a fine.