Cafe and bakery in Bodrum.
We present to you a selection of popular net cafes and bakeries on the Bodrum Peninsula.
Turkey is a paradise for coffee and sweets lovers. Here you can find coffee beans from all over the world and taste many different desserts based on original recipes.
VAKKO PATISSERIE PETIT FOUR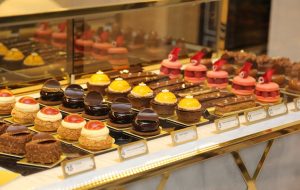 As a result of long and painstaking work created Vakko Patisserie which invites you to try French pastries with their delicious taste and stylish presentation. Vakko Patisserie has two bakeries in Bodrum, at Yalıkavak Marina and at the Mandarin Oriental Hotel.
STARBUCKS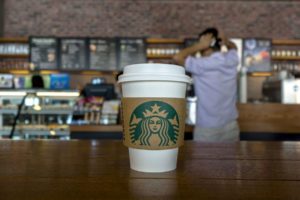 Loyal fans of Starbucks, the world's largest coffee chain, will appreciate its café in Bodrum. Starbucks has opened coffee shops in Yalikavak, Turgutreis, Torba and shopping centers.
They're 8 coffee shops on the Bodrum peninsula, two of them in the center: on the Liman and next to the St. Peter's Catle.
KAHVE DÜNYASI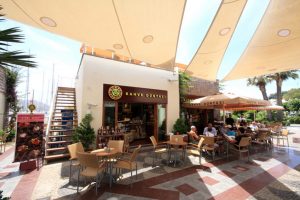 The coffee shop Kahve Dünyası located in the center of Bodrum, on the Marina. It is a long-standing and favorite place for locals and visitors. It is distinguished by a perfectly matched place on the seashore. You will find a good selection on the menu, from coffee and chocolate to pastries and ice cream. The Kahve Dünyası chain has two cafe in Bodrum. The first is next to the Marina Yacht Club, the second – on D-Marin in Turgutreis.
CAFE NERO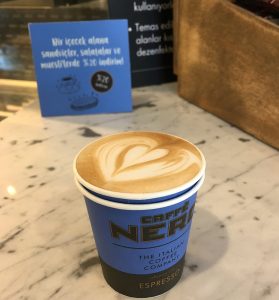 This chain of coffee shops came to the peninsula recently, the first opened Nero cafe in Bodrum located in the Midtown shopping center. The second coffee shop opened at the Yalikavak Marina, the third – in the center of Bodrum, on the Liman. This is a place where you can relax on the terrace and have a good time with friends over a cup of delicious coffee.